The panto is now closed
2nd January 2011
A MASSIVE thank you to everyone who was involved in Sleeping Beauty - a record breaking run!! The panto is now closed.
Most importantly, thank you to our audience for supporting us. We hope you had a great time and that you join us for Aladdin in 2011/12!
The production photos are out
10th December 2010
Visit our facebook album (link above) to see more images.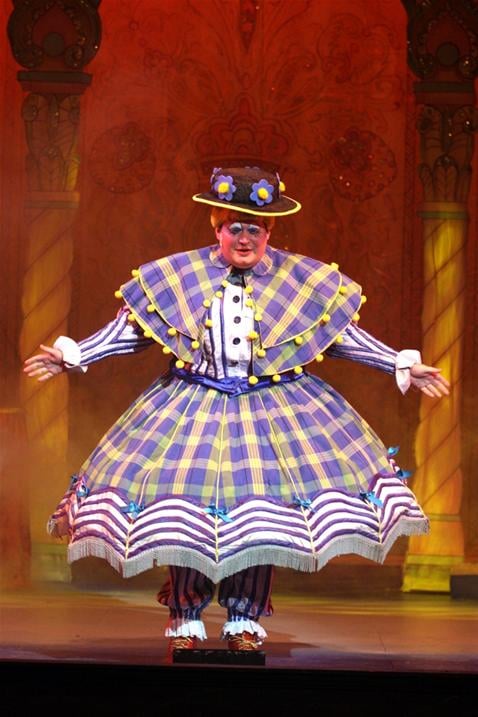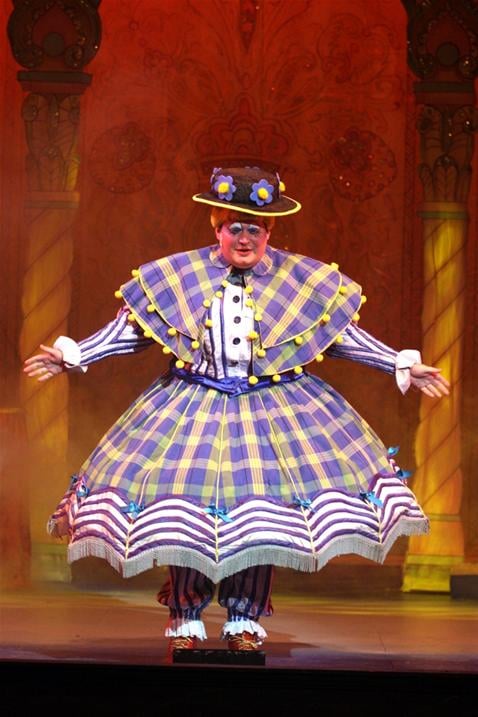 The panto's in rehearsal!
25th November 2010
Visit our facebook photo album to see more photos.
Steve Boden (Director) and Rob Marsden (Assistant Director) work on the slapstick routine with Justin Fletcher (Josh the Jester) and Jolyon Dixon (Nurse Nanny Nora)
Adrian Edmeades (Choreographer) puts the cast through a warm-up while Emma (wardrobe) sorts out costumes with Lauren Harrison (Princess Belle).
Justin's recorded the radio advert.
8th November 2010
Pop Justin Fletcher in a recording studio and hey presto, you get a rather splendid radio advert!
Leah's on Radio Berkshire
8th November 2010
Listen to Leah Bracknell (who plays Carabosse the Bad Fairy) live on Saturday 13th November at 8:50am!
The official promotional videos are out
2nd November 2010
These are our two new promotional videos. The one above is the full version whereas the one underneath is a shorter version.
The panto is launched!
4th September 2010
Seven of the eight cast members of Sleeping Beauty got together to formally launch the panto! Here's what they got up to...
To view more photos from the panto launch, go to our panto facebook photo album!
The panto is cast
15th August 2010
We are delighted to announce that Sleeping Beauty now has it's principal cast. Joining Justin, Leah, Jane and Clare are....
The panto babes are cast!
4th July 2010
A BIG thank you to all those who turned out for our very first set of pantomime babes auditions in Reading. We had a brilliant day and the standard was so high. Well done to the 30 babes (3 teams of 10) who got into the pantomime! We can't wait to work with you! x
Clare joins us in Reading
18th June 2010
Clare Waugh, who has starred in several scottish pantomimes in the past for Imagine, joins the cast of Sleeping Beauty this year to play Prince Valiant. We're really looking forward to workign with you again, Clare! x
Jane and Leah join the cast
22nd April 2010
We are delighted to announce that Jane Tucker (Rainbow and Rod, Jane and Freddy) will star as Azuriel the Good Fairy, and Leah Bracknell (Zoe Tate from Emmerdale) will star as Carabosse the Bad Fairy.
Justin visits the Hexagon
16th March 2010
Some of the team from Imagine headed down to the Hexagon for a marketing meeting - and Justin popped in to see us all.
Children's TV Star Justin Fletcher to star in Hexagon panto
4th March 2010

We are absolutely delighted to announce that Justin Fletcher, star of many childrens TV shows including Tweenies, Gigglebiz, Higgledy House, Tikabilla, Something Special and many many more, will appear as Josh The Jester in this year's Hexagon panto!