Our 2008 pantomime at Loughborough Town Hall was Aladdin starring:
Martin Ballard as Widow Twankey
Neil Bull as Wishee Washee
Nick Barclay as Abanaza
Leon Craig as the Genie
Emily Latham as Aladdin
Alice McGreevy as Princess Baldroubador
Tammy Jones as So Shi/ Spirit of the Ring
Directed by Neil Bull
Choreographer – Melanie Orchard
Musical Director - Mark Edwards
Executive Producer - Steve Boden
The show ran from 29th November 2008 to 11th January 2009.
The panto is now closed
11th January 2009
After 69 performances, Aladdin closed at about 7:30pm this evening.
It's been a fantastic show, and we've had alot of fun. Thanks so much to the cast and crew, but mostly to the team from the Town Hall. Thank you for making us so welcome yet again!
We're really looking forward to being back in November 2009 with Beauty and the Beast!
xx
The After Show party
10th January 2009
The after show party took place this evening with a 'spoof' pantomime being performed by the crew for the cast and creative team! we're trying to chase down some photos and will upload them when we get some...
Secret Santa Photos are out!
3rd January 2009
A sneak back stage at what the cast gets up to when they're not on stage.... This year, they had a company secret santa (we're not telling who Santa was!) in between shows on 23rd Dec....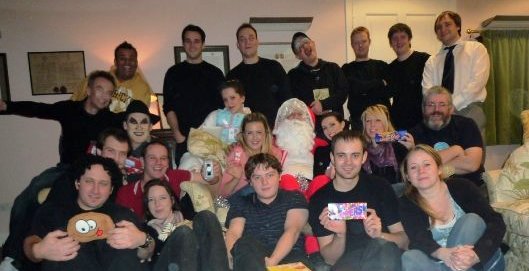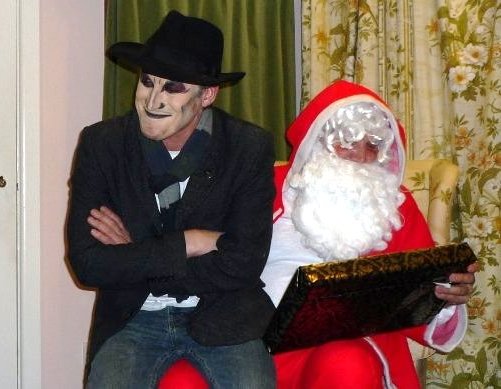 The Reviews have started coming out!
8th December 2008
Gala Night!
5th December 2008
Friday 5th December was the gala launch night of Aladdin at Loughborough Town Hall, so as usual, we were out in force with our cameras!
The AMAZING Cast and Crew of Aladdin - So sorry, can't pick everyone out (and OK, I admit it, I'm rubbish with names too!!), but here are a few pointers on who is who! (Thanks to all those involved in the show on a fab production).
Front Row, going right to left - Hayley (Chaperone), Leon (Genie & Emporer) Louise (WISH), Tammy (So-Shi), Martin (Widow Twankey), Alice (Princess), Steven (PC Pong), Emily (Aladdin), Dawn (White dress - Wardrobe and CM), then above Dawn is Nick (Abanaza) and Neil (Wishee Washee and Director)
Then top row behind right to left - Chris (Sound), Phil (WISH), Kevin (In the suit - Production Manager) and then on the very far left is Lauren (DSM)
The production shots are out
3rd December 2008
Here are some of the 600+ production shots! Sorry if the colours are a little washed out - it's due to us having to shrink the files down to fit them onto the website. Photos taken by our friend, Helen Ashbourne. Thanks Helen! x
The panto is open!
29th November 2008
Well, that's it. Rehearsals are finished and the panto is open. As soon as we have some production photos we'll upload them for you to see.
For Director Neil, Producer Steve, Choreographer Mel, Musical Director Mark and Musical Support Dan, their job is done. It's now over to the cast and crew for the 69 performance run. Have a great run, guys!
Ticket sales are higher than ever, and judging by the reaction of the audiences on day 1 of the 7 week run, we think it's going to be a great show!
Nearing the end of rehearsals
27th November 2008
Lauren has sent us some more photos. The show is now in final tech and dress rehearsal.
Rehearsals continue
19th November 2008
Lauren has sent some more photos through!...
First images of rehearsal are coming through
18th November 2008
Lauren, DSM on the panto has started to send through some photos! We'll upload them as we get them
Rehearsals have started!
17th November 2008
Day 1 of rehearsals at Loughborough Town Hall, and following a script read through the cast and crew were soon down to work. Prologue, opening number and some of Act 1 Scene 1 are set, and the kids have been in all evening dancing their hearts out!
Lauren, the deputy stage manager, has her camera to hand and has promised some shots within the not too distant future, so keep your eyes peeled for some action shots of rehearsal. They'll be coming soon!
Rehearsals start on Sunday!
6th November 2008
If you can't beleive it's panto time again, neither can we! And for Loughborough this year, rehearsals are kicking off a week early.
Director Neil Bull and Choreographer Melanie Orchard are starting the panto babes early this year, and putting them through their paces on Sunday 9th November. Then they're in again on Sunday 16th November for another babes day, before rehearsals start with avengance with the full cast on Monday 17th November.
If you're planning to come to see Aladdin at Loughborough Town Hall, and you've not yet booked your seats, we'd recommend you do so, especially if you're planning to come during the Christmas week. Tickets are selling faster than ever, so get your skates on and get down to the box office asap!!
Cast photo day
8th September 2008
The principal cast of Aladdin met up in Loughborough on Mon 8th Sept to have some publicity photos taken. Here are some images of the day.
The panto babes are cast!
8th September 2008
Thanks to the 85+ babes who turned up to audition for a part in Aladdin!
All auditionees performed in front of Neil Bull (Director, & playing Wishee Washee), Melanie Orchard (Choreographer) & Sarah Boden (WISH Theatre Ltd).
We were absolutely delighed with the standard, and are pleased to announce that this year, there will be 3 teams of 8 babes performing, as well as 4 'reserves'.
Well done to all who were successful - we can't wait to work with you!!
The panto is cast
27th August 2008
Here's who will be appearing in panto in Loughborough for 2008/9
• Martin Ballard as Widow Twankey
• Neil Bull as Wishee Washee
• Nick Barclay as Abanaza
• Leon Craig as the Genie
• Emily Latham as Aladdin
• Alice McGreevy as Princess Baldroubador
• Tammy Jones as So Shi/ Spirit of the Ring
The panto flyer
July 2008
The Panto Flyer is ready!
Neil & Martin meet up to start promoting the panto
29th May 2008
Starring Martin Ballard as Widow Twankey and Neil Bull as Wishee Washee...